Beach Time With Womens Rash Vests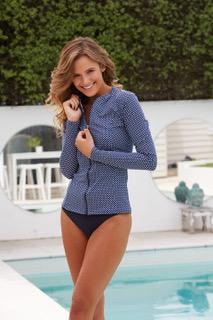 It's that time of year again where the weather is warming up and the beach is beckoning. Nothing better than a relaxing day out with a good book and your favourite swimwear to get some much-needed vitamin D and relaxation. But one thing that most people either forget about of find too daunting is what food and other essentials to take with them. Especially if you are down there for a picnic lunch or have got kids in tow. We have put together a list of what we think are awesome ideas to pack into your hamper or take with you.
A good cold storage bin: This goes without saying that some things just need to be kept cold. As you are outdoors, and the sun can get pretty strong and hot, having a way to keep your food and drinks cold is an absolute must. Get something that is big enough to pack all your cold things in, can also fit your drink bottles and some ice packs to keep it all fresh.
Cutlery can be very handy when on the sand. Getting rid of the sand on your hands can be hard as let's face it, sand just goes everywhere. A knife is also handy for spreading cheese or dips onto bread or biscuits.
Paper plates are great for dishing food out on as they don't shatter like porcelain and also are disposable at the end of the day.
Wipes are so good to have packed away, especially the wet wipes. Great for trying to get the sand off fingers or wipe faces. These little gems have got a huge amount of useful applications.
Frozen water bottles are great to take with in the cold storage bin as by the time the water defrosts, it will still be nice and icy cold. There is nothing worse than warm/hot water when you are really thirsty and want to stay hydrated.
A picnic rug or a large towel to spread things out on. Rather than having everything put on the sand where sand will inevitably get into it all, use a large towel or picnic rug to base it all on.
Food which is easy to eat and is snackable. Things like pre-made sandwiches, cold roast chicken, cheese, biscuits, a premade salad and nuts can all be great ideas for packing into the hamper. Keep things easy for yourself and if you have them packaged in plastic containers, they are great for bringing out when you need them and then also securing away until later.
And last but definitely not least is sun protection. Don't forget the womens rash vests. A good long sleeve rashie womens can save on getting sun burnt and as they are so light weight and comfortable to wear, you can wear it all day. Womens rashies with zip is a great style as you can position the zip where you desire to either zip up for full sun protection or down slightly for a bit of fresh air.
         Enjoy the beach!!
Leave a comment