Buy Womens Rash Vests with Confidence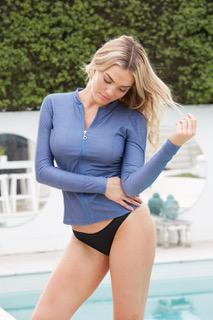 One of the best things about life is being able to spend time outside and most of that time you are in the sun. That is what is truly great about life, getting out and about to enjoy it. But activities like going for a long walk or snorkeling off the beach can require you to be out in the sun for a considerable amount of time. Whilst this makes for an awesome day, it can also really expose you and your skin to the sun and its damaging rays. So how do you make sure you don't come home with a nasty sunburn or even worse, increase your risk of premature aging or even a skin cancer?
Investing in a piece of sun protection clothing can give you the confidence to spend hours out in the outdoors knowing that you are doing your bit to keep yourself safe. Combining this with a high SPF sunscreen to the exposed areas is a great first step in sun protection. A question that we get often is what should I look for when I look at a womens rash vests sale? Our answer is something that you like, fits well and that you can match in with your wardrobe – swimwear or outdoor wear.
Look at the colours that you currently have at home and what you would most likely pair the top with. This can help you figure out what colour you ideally would like to invest in. A simple black one can go with anything whereas brighter colours can also look fabulous. Go with what you like, and you know you will be happy wearing for hours, especially if you are planning to be outdoors for an extended period of time.
The next is the fit and whether you like a snug fit or a more relaxed fit. Traditionally, these tops are made for a snug fit as they are used very commonly for water sports such as swimming. Being tight in the water makes them easier to swim in as they are almost like a second skin. Whereas if you want a more relaxed fit, look for a size up so it is not as snug but is still comfortable without being too loose.
The design is another decision and as there are so many awesome designs out there, there are many choices too. Our range here at Cat & I are made to be more stylish and fashionable so they can work in with your wardrobe and not even look like a womens rash vest at all. The sides are contoured which gives a lovely silhouette and is designed to flatter all shapes and sizes.
Investing in a piece of sun protection now is like investing in keeping your skin healthy and looking younger for longer. You will not regret it at all.
Leave a comment