Cat & I Womens Rash Vests Featured at Miami Swim Week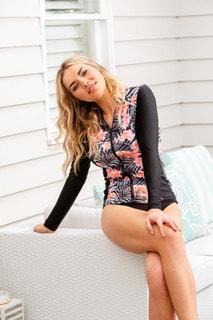 The biggest swim show on this planet kicked off in Miami in July and we are so proud that our gorgeous womens rash vests were on show. Not only did we get some amazing feedback on our collection, but we also got to check out the latest trends in swim and sun protection.
Sun protection is still very foremost in peoples mind as the sun is getting stronger and the incidence of skin cancers is increasing. Did you know that one person in every three in Australia will be diagnosed with a skin cancer by the age they are 70. Let's look at the US statistics and it is one person in every five that will be diagnosed with a skin cancer by the tie they are 70. These are pretty scary statistics and numbers. Hence why sun protection is just so important if you are spending time outdoors and in the sun.
Having sun protection which is UPF 50+ is important as it is one of the highest levels of sun filtration you can get. It will filter out up to 98% of the sun rays which includes the UVA and the UVB rays. The UVA rays are the rays which are prevalent for most of the day, starting when the sun comes up to when the sun goes down. These nasty ones penetrate deep into the skin and cause premature aging as well as sun spots. The UVB rays the are ones that are known for causing the skin cancers that we are all so afraid of. These rays are mainly around from about 10am until 4pm when the sun is at its highest in the sky and also at its strongest.
This is why the Cancer Council suggests avoiding the sun during these times, but we all know that it is not entirely possible. Having the option of covering up with sun protection is a good compromise for protecting yourself as well as getting on with your life doing the activities that you love doing. Sun protection is not just limited to wearing UPF 50+ clothing, you will also need to look at using a high SPF sun cream for the exposed areas of skin to ensure that everything is covered. A hat and sunglasses are also a must as the top of the head is somewhere most people forget about covering up. This can lead to nasty burns on your head. The eyes can also get sun burnt which is why wearing a pair of sunglasses which have lenses to filter out the suns rays are also a great idea.
The trend for sun protection is not just limited to wearing them at the beach or at the pool. In fact, people who are involved in any kind of outdoor activity are starting to wear them regularly as they see the benefit in wearing a top which is UPF 50+. Anything from playing golf to camping and hiking as well. Fishing is a big one given the amount of time you spend outdoors and in the sun. This also goes for the sailing community who are regularly in the sun whilst out on the boat. In fact, the water actually reflects back the UV radiation, making the dosage that you skin is getting so much higher. Any kind of activity on the water, it is extremely important to cover up and make sure you are sun protected.
With the womens rash vests, the fit is important as to reflect what you would like to use it for. For example, if you are wanting to use it for water activities where you will be in the water an getting wet, then you will want to look at something which is fitting. With a fitted top, you will find that it makes it easier to move in the water without it ballooning out around you. If you are looking for something for golf or hiking, look at a more relaxed fit which looks more like a long sleeve t-shirt. This makes it more comfortable for when you are doing activity where you need the top to move more.
The trends for sun protection are not just limited to rash guards. In fact, the long sleeve swimsuit or the surf suit is becoming more popular as it is a rash guard and a swim suit combined. Think of a well fitted swimsuit with long sleeves and a zip front for easy access getting it on and off again. The fabric is the same as a swimsuit but it is a UPF 50+ garment to offer ultimate sun protection. These have been designed beautifully so they look elegant, sensual and sexy whilst protecting you from the sun.
The colours and prints that were on show represented floral and animal prints. As per the last season of prints, the leopard spot is still very much in demand and on-trend. The snake skin print is also still very popular and available in a variety of colours looks fabulous. This print on a one piece swimsuit with long sleeves transforms the garment into a high fashion item that will look fabulous both at the resort and also the beach. Pair with a chic large hat and oversized sun glasses to look glamorous and fabulous.
The other print which is widely popular are the florals. Think bright colours as well as muted tones. The tropical floral prints look amazing both on the sun protection tops as well as the long sleeve swimsuits. The colour trends in these floral prints are vibrant blues, soft coral tones, bright pinks, reds and the teal greens. These are fabulous colours to be able to mix and match with your favourite swimwear to create an unforgettable look.
If you are looking for a womens rash vests sale then look no further than Cat & I for some gorgeous pieces that will not only protect you but also have you looking fabulous for where ever you wear them.
Leave a comment