Don't Forget the Rashie Womens This Summer!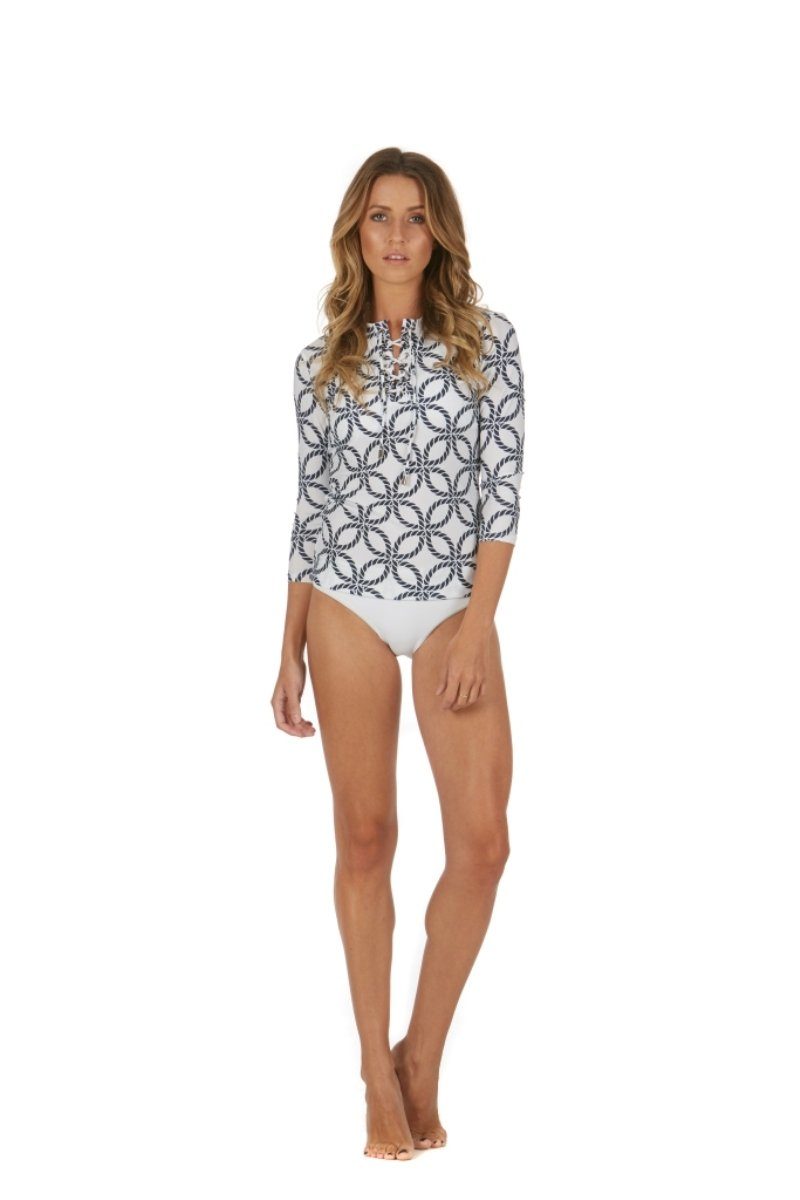 Concerned with premature aging through sun exposure? Join the club as most women are. The sun can cause premature aging through its harsh UV rays and your best defence this summer is sun protection.
Along with sunscreen, sun protective clothing is one of the best defences against the sun and the increasingly strong UV rays. Sun protection with a high SPF rating for sunscreen or UPF rating for clothing can help protect you and help keep your skin safe. A womens sun protection top, also known as
womens rashies
is a good investment to make this summer. With a rating of UPF 50+, this vital piece of clothing can protect you from up to 98% of the suns harmful rays including that UVA ray which is linked to premature ageing.
What to look for in a ladies sun protection top? We would recommend that you look for something that is going to protect both your chest area and your shoulders. Something with a neckline that can be done right up to the neck if you want. Regarding sleeves, a womens long sleeve rashie is a great idea for full arm protection as it will cover the whole arm right down to your wrist.
There are other designs in which sleeve length may be ¾ which covers most of your arms down to just below the elbow which is great if you are after something in between a short sleeve top or a long sleeve rashie. Simply apply a high SPF sunscreen to the exposed skin to make sure you are fully protected.
One of the big changes in 
rashie womens
 is that they are so hip and cool these days in their designs and the colours or prints. At Cat&I, we have purposely designed our range to be chic, stylish, classic and timeless. A piece of clothing that looks great both at the beach and perfect for an upscale resort sipping on a cocktail mid-afternoon. We have taken the design to a new level ensuring contoured sides for a flattering fit and added a bit of gorgeous bling with our signature silver zip puller. The body and sleeve length are designed to fit nicely, especially on the hips ensuring full torso coverage.
Our colours and prints in our womens rashies are purposely chosen to complement any swimwear and look great paired with a large floppy hat and oversized sunglasses. Alternatively, pair with chic white flowing pants or shorts for that stylish resort look with a pair of gorgeous sandals and an SPF lip-gloss. Designed to be worn anytime, anywhere and offer the ultimate in full sun protection.
Leave a comment