Girl's Rashies Fashion for this Summer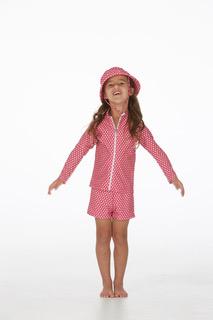 What are the girls rashies trends this summer? Fun, bright and made for purpose. Especially at the beach, protecting the young ones is so important so make sure you are getting the highest UPF rating you can. UPF 50+ is particularly ideal as it blocks out up to 98% of UVA and UVB rays.
All that aside, let's discuss the girl's rash vests fashion for this summer. You may have noticed that bright colours are definitely trending right now and that is really great for mum's too! Imagine being able to see your child really quickly with either the unique pattern or the bright colour of the sun protection top. Peace of mind that you can identify them fast without that moment of sudden panic that all Mum's tend be good at getting.
An emerging trend is having matching swim shorts and hat. We particularly like this one as not only are they looking so cute in a matching set but have got really good sun protection too. The shorts are great at protecting the top of the legs and are so comfortable to wear. Then the hat can help protect the ears, top of the head and the neck area which are still exposed to the sun. Having them all in a matching set will make them even easier to identify again which is so good for peace of mind when you are trying to relax on the beach too!
So what to look for when thinking about buying girls rashies Australia… Look for something that fits. Most importantly you want something that they will be comfortable wearing especially for long periods of time. We all know that once you pack the picnic and trek down to the beach, most times you are planning to stay a few hours at least. Having something that is so comfortable that they won't even notice it is the key to keeping everyone happy.
Our tips are finding something that fits well without being too tight or too loose. Too tight just means plain old uncomfortable and getting them to keep the rashies on can be challenging. If they are too loose, when they go swimming the top will balloon out and become cumbersome and annoying to them. You may also consider getting something that is easy to put on and take off. We all know kids have no patience to stand there getting dressed when the sand and waves are beckoning. Look for full length zips which are super easy to use for dressing or a neckline which can be loosened for easy slip on and off.
Last but not least, any exposed skin should be covered with a high SPF sunscreen and have shade available for throughout the middle of the day when the sun is at its strongest.
Leave a comment