Girls Rashies and the Beach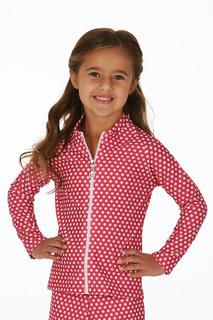 Summer is here! Beach time is an absolute given here in Australia as that is the mecca of all things relaxation and fun. Right? Weekends are often filled with time on the sand, enjoying the waves and just hanging around watching the kids play and reading a book.
There is also the 'what to pack' consideration that I think leaves most of us stumped. As we think we have packed all that we need to take, there is always something that gets left and you have one of those 'oh no' moments once you have unpacked and set up for the day. It happens to the best of us!
One thing I've learnt from experience is that the picnic and the sun protection are two of the most important things to consider. The girls rash vests, the sunscreen, the hat and the shade tent is something that will keep everyone happy long after the beach day has passed. Nothing is worse than suffering a bad sunburn which not only affects you for days after, but also the long-term effects which can haunt you well into older age. Girls rashies Australia come in UPF 50+ which can keep them protected all day long.
The other most important thing to take is a well-planned and thought out picnic. Especially if you have got kids, it will keep them happy all day as playing does tend to whip up a pretty good appetite. And packing a good picnic with the right kinds of food is a must to both be healthy but also keep them happy. And also remember that whatever you take, sand will always get into it which is something you can't avoid.
Hand held food is always a great idea as it is easy to hold and eat rather than something where you don't have to use utensils that inevitably always fall into the sand. Also having the food divided up into portions is great as you can just hand out the sandwich or the slice of watermelon so easily. Having them prepackaged in containers will make life so easy for you and always remember to have some way to keep them nice and cold. A cold storage box with ice packs is a great way to keep everything fresh.
Water and other drinks are absolutely essential at the beach and a really great idea is to take water bottles which have been frozen overnight. As they slowly thaw, the water will icy cold which is perfect for those hot summer days. Other drinks simply keep chilled with ice packs in your cold storage bag.
The perfect picnic, sun protection with girls rashies and chilled drinks make a good beach day into an awesome beach day!
Leave a comment