Have You Got Your Cat & I Rashie Shirt Vacation Ready?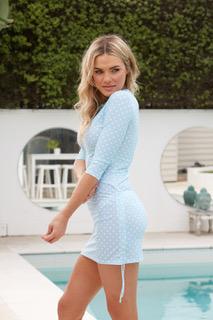 When you are packing for a holiday or vacation, one accessory that you won't be able to do without is your rashie shirt. Whether you are going to a resort, camping or just spending time at the beach, this is one important thing that you will definitely need. If you don't have one, you really don't know what you have been missing out on. There are so many reasons why a rashie shirt womens can not only be your best friend, but also your favourite holiday accessory. 
A Cat & I rash shirt womens can be worn anywhere and everywhere. From sitting by the pool, to walking on the beach and then even sitting outside enjoying a bite to eat. It looks great and as its been designed to fit, it gives a lovely tailored look which can be paired with any outdoor clothing or swimwear. You can glam it up with lip-gloss, earrings and some gorgeous sandals if you want to dress it up for cocktail hour.

 
The second reason is that it will protect you from the sun. The best beauty accessory a woman can have is sun protection. The sun is known for causing premature aging as well as sun spots and even worse, skin cancers. By covering up and wearing one of these awesome shirts, you will be looking after your skin and your health.

 
If you are looking for the ultimate resort rashie shirt womens, check out our convertible sun protection top. It is not only a top but it also doubles as a mini dress. Worn as either a coverup at the beach or pool, or as a mini dress for cocktail hour or shopping. Just tie up the sides with the ties for a top or let them down for the dress. Paired with sandals and gorgeous lip gloss, this number will both protect you from the sun as well as being the perfect resort accessory.

 
So, if you are heading off to a vacation somewhere warm, don't forget to take some sun protection with you. You won't regret it and both you and your skin will be happy!
Leave a comment