How to Choose Mens Rash Vests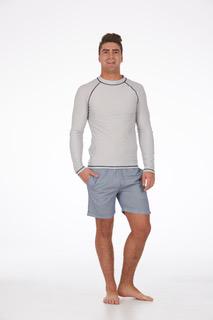 Choosing
mens rashies
can be challenging sometimes as you aren't too sure whether to get something that is snug fitting, a little bit loose or even the style, colour or design. Hopefully this will help demystify what to look for and how to make a decision that you will be happy wearing on the beach.
When looking at the fit of the top, something to consider is whether you want something which is going to fit snugly and be like a second skin. Or do you want more of a relaxed fit which is more like a t-shirt and has a bit more room in it. The decision is personal what you like or what you think but there are some considerations as to activities and what you want to be doing whilst wearing it.
If you just want a top to wear when you are out and about, then maybe something with more of a relaxed feel might be more your style. Something you can pair up with shorts or long pants for that added sun protection without the skin-tight look. You will still want to have a top which has got long sleeves and a high neckline for full sun protection but purchase a size up from your normal size as mens rashies Australia are designed for a snug fit.
However, if you are planning to wear it when you are swimming or doing any kind of water sport than you may want to consider having it a as a snug fit. Having it a bit tighter helps with swimming as it will move with your skin and not balloon out like a normal t-shirt. Especially if you are doing water sports, you do not want anything to get in the way and it will just get a bit annoying down the track. If you are surfing, then you definitely want a good snug or tight fit.
The style and the design of the top is personal but if you are wanting some really good sun protection, then looking for long sleeves and a high neck line would be beneficial. Also look out for contrast stitching as this can give it a really great look when wearing it.
Another consideration is how much of a filter the top is of the sun's rays. For example, a high UPF rating on it will filter out more UVA and UVB rays. Most
men's rash vests
out there today are UPF 50+ which is good as they will filter out up to 98% of the sun rays.
The last consideration is colour and again this choice is purely personal. Choose something that you will be happy wearing and also match in nicely with either the swimwear you want to pair it with or the rest of your wardrobe if you want to wear it with other clothing.
Leave a comment