How to Wash and Care for Womens Rashies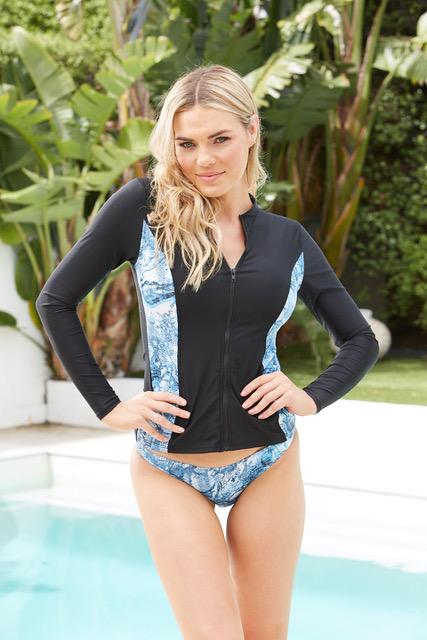 You have just come in from an awesome and relaxing day down at the beach and unfortunately yes, you do have to unpack the beach bag to take out the left-over food and also the wet swimwear. You really don't want to leave your wet garments in the bag rolled up as they really do not like this at all. Taking your favourite sun protection and swimwear down to the beach or the pool means that you will have to look after it when you get home so you don't ruin it. So, how to care for your wet swimwear and womens rashies? We get asked this question quite a bit and have decided to put some great points below on care instructions and how to get the most life out of your swimwear.
How to Wash:
Hand washing seems to be the best practice to care for the delicate garments to ensure that you extend their life. Using cold water or lukewarm water to hand wash them and with no detergent or even just a mild detergent will keep your swimwear looking great. If you have to use the washing machine, use a delicate cycle with a mild detergent or even better, put them into a wash bag on the delicate cycle.
Rinsing them after use is also helpful to wash out the chlorine or the saltwater before you head home as chlorine can erode the fabric and also the print or colour. Do not wring the water out or soak them as the fabric does not like this, and definitely do not bleach them.
How to dry:
It is recommended to dry them somewhere that is in the shade as sun light is harsh and can possibly bleach the colour of the print. Lying them down flat is also a great idea to ensure that they don't get stretched and lose their shape, as well as drip drying somewhere in the shade. As they are made from a polyester or a nylon fabric with a stretch component such as elastane or lycra, you will find that they will dry really fast. It will literally take minutes on a warm day in the shade to dry and be ready to wear again.
One thing to note is do not use the dryer as they will make the fabric deteriorate and you will not get as much usage out of it as you would like.
Limit contact with rough surfaces:
 Rough surfaces such as around the pool edge or concrete can cause the womens rashies to get what we call pulling on the fabric and ruin it. This is something that you don't want especially if they are new or its simply your favourite garment. Sitting on a towel or a cushioned seat can help you avoid this and also be careful when brushing up against the side of the pool when swimming.
Don't use them in spa baths:
Wearing them in spa baths is another sure way to limit their life span as they don't like the hot water and it can potentially cause damage to the fabric. The chlorine is nasty to swimwear fabric and can drastically shorten its life and if you are swimming in a chlorinated pool, we recommend rinsing with fresh water and a mild detergent straight away to get as much of the chlorine out as you can.
Oils and Creams:
Fake tans and Makeup can ruin the fabric as it can mark it, same as some sunscreens and tanning oils. Be careful with how you apply these products and then put on your swimwear as you don't want marks or stains ruining them. These are also hard to get out but using a mild detergent may help limit the size and darkness of the stain or hopefully get it out completely.
Care instructions:
Last but definitely not least is always read the manufacturer's instructions which are on the inside of the garment as this will best tell you how to care for it. Each product should have one and they are specific to that fabric and that garment.
Looking after and caring for them shouldn't be hard or labour intensive. It is simply a matter of taking care and treating them correctly to make sure that they last and also look good for next time. Little things like rinsing after use and making sure that you don't leave them rolled up wet will go a long way to ensuring that their life is extended. As print colour does tend to fade, drying the out of direct sunlight is important as this can bleach them, and they will start to fade and look old. Little tips like these will help you protect your swimwear investment and ensure your favourite pieces will last
Leave a comment