Mens Rash Vests for Summer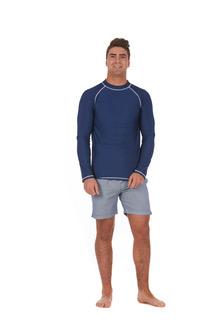 Looking for the best mens rash vests sale? Look no further than the mens rashies Australia that we have currently have on our awesome sales page. As summer is now in full swing, sun protection is so handy to have and is good for our health. Especially men who do a lot of outdoor sports during summer, having a good mens rashie can be the difference between being sun protected or suffering a blistering burn.
Outdoor sports especially when they involve water can actually intensify the UV rays that can so easily burn our skin. Not only are you getting UV radiation straight from the sun but also the reflection of those same rays which are reflected off the water. This means a double whammy or a double up of radiation!
What to look for mens rash vests? One of the most important considerations is the UPF rating of the sun protection top. The higher the UPF rating, the more sun protective it is. As an example, a UPF rating of 50+ can offer protection from up to 98% of the UVA and UVB rays. A huge misconception is that the humble t-shirt can offer sun protection as most men are happy to pop a t-shirt on when they are out and about in the sun. In actual fact, the humble t-shirt can only offer sun protection rating of around UPF 5 which is minimal, especially when we are talking about the strength of the sun in this day and age. This is why getting a purpose made sun protection top can really help save you from that awful sunburn.
Another consideration is definitely fit. You want a top which fits well and is comfortable to wear. Getting something which is snug without being tight is perfect if you are planning to go into the water. A top which is quite loose can tend to balloon put which can make it uncomfortable to wear when you are swimming. Make sure that the fabric is a lightweight material which makes it really comfortable to wear especially if you are planning to wear it for a long period of time. Being lightweight too can help keep you cool rather than a heavy material which can be quite cumbersome.
Mens rashies Australia come in all colours, designs and fits but here at Cat & I, we have designed our range for the perfect fit. Colours are also classic and are chosen especially to be matched with favorite swimwear to ensure that everything matches nicely and looks great as well as being practical.
Leave a comment