New Womens Rash Vests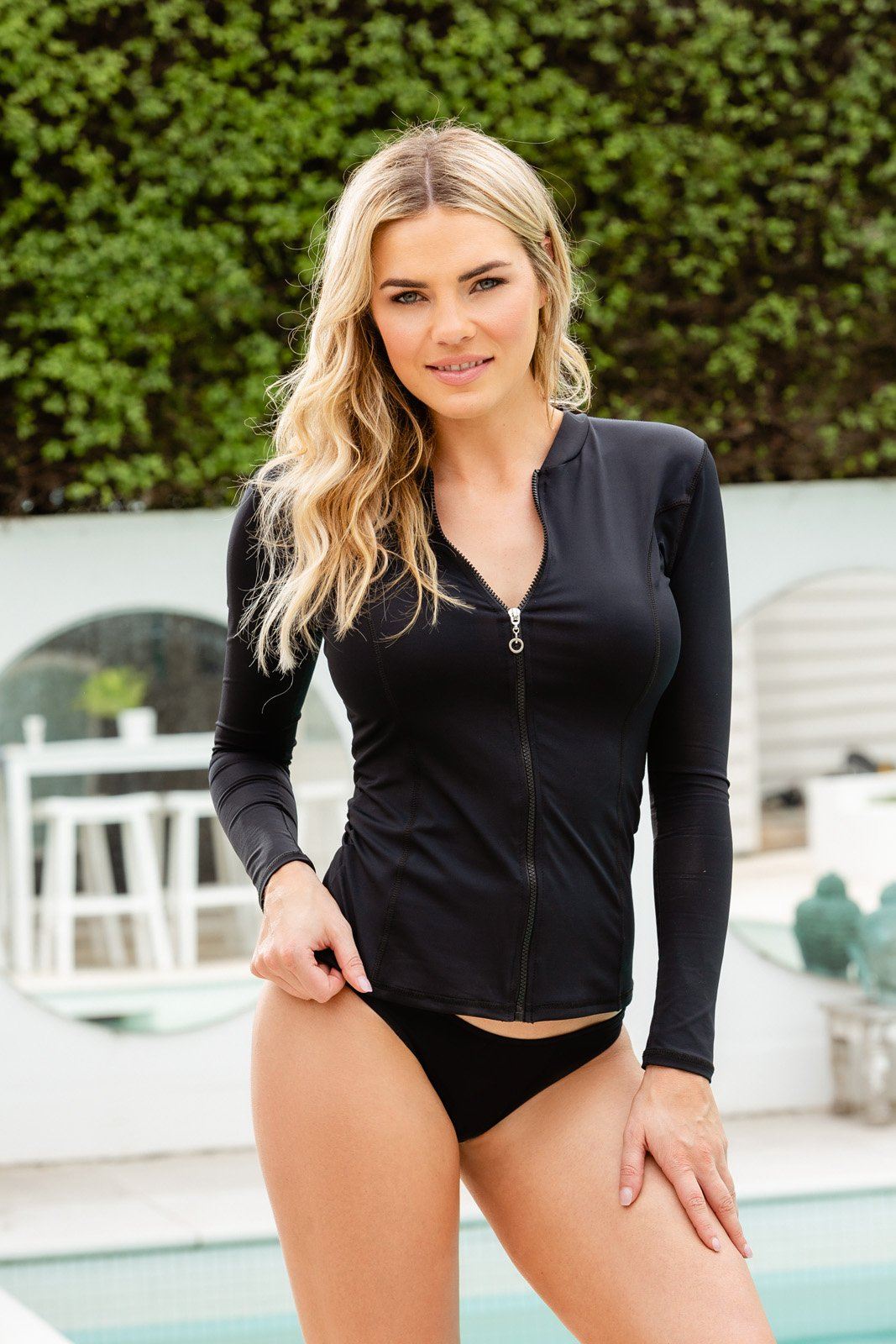 News flash! We have just launched two new gorgeous rashies just in time for summer. We asked you what you liked, you told us, and we listened. So, if you are in the mind to buy womens rash vests this summer, then check out our two new styles!
Within our rash vest womens range with long sleeves, we have two new colours which look great on and can complement any swimwear. Our Jet Black rashie and the Navy Polka Dot rashie are sure to please and will look fabulous on anyone. Featuring a full length front zip and adorned with our signature Cat&I silver zip puller, these styles are UPF 50+ for ultimate sun protection.
Our fabric is a premium 4 way stretch fabric made from a Nylon Elastane mix which is so comfortable to wear. Giving a snug fit, these sun protection tops are lightweight ensuring that they can be worn comfortably all day if need be. Quick drying also which is so important if you are in and out of the water and chlorine resistant which is handy if you are around a pool.
Given that the sun is increasingly getting stronger and more harmful, now is a great time to look at getting your most essential beauty accessory for this summer. Sun protection! Not only will protecting yourself from the sun help with dramatically reducing your risk to skin cancers, but it will also help with anti aging. Yes, the sun plays its part in wrinkles and sun spots big time. Those UVA rays which penetrate the skin quite deeply can damage the skin and cause wrinkles and premature aging. To help reduce this, wearing sun protection clothing, a broad spectrum high SPF sunscreen, a hat and sunglasses should all be your best friend whenever out and about in the sun.
Another great tip when looking for sun protection clothing is to look for a high UPF rating which means that the higher the UPF, the more sun protective it is. A UPF rating of 50+ will protect your skin from up to 98% of the UVA and UVB rays. Also, to check out when you buy a womens rash vest is the coverage that the garment will give you. Everyone is different and wants different types of coverage. So if you are after full coverage, look out for a sun protection top which has got a high neckline to protect the chest area from the sun. Also make sure the sleeve length is what you are after as there are varying lengths available from ¾ length to a full length sleeve.
Why not check out our womens rash vest sale and take a peek at our two new womens rash vests! The perfect summer beauty and health accessory that will have you looking great as well as being sun safe.
Leave a comment