Rescue Womens Rashies for Summer Holidays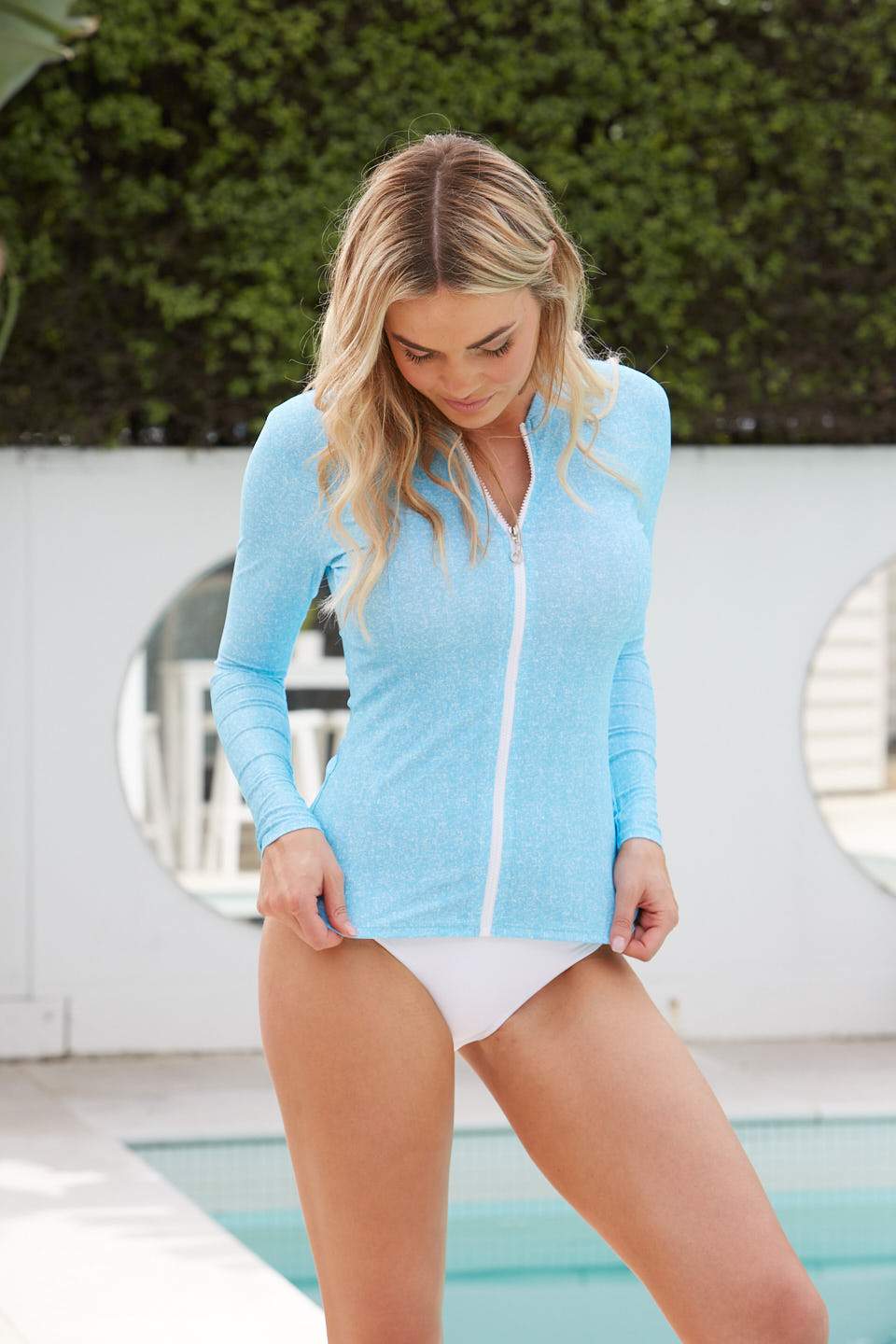 Summer is one of the best times of the year by far. The weather is warm, the sun is shining and the thought of hanging out at the beach or the pool just sounds so good. Hanging out near water is so relaxing and there is something about it that really makes your mind switch off and you just enjoy the moment. However, lazing around in the sun can also have its down sides and a big one at that is sun exposure. Too much can have you sun burnt and at worst, exposing your skin to sun damage and possibly skin cancers.
Here at Cat & I, we have got what we like to call a rescue rashie and yes, you got it. This is a rashie which is going to help save your skin from the damaging sun's rays. These all-important pieces of clothing needn't be boring or unfashionable. If you have managed to avoid owning and wearing one of these as they just don't look great, then you are in for an awesome surprise. Not only have rashie womens clothing come into this century of fashion, but they also fit well, are designed to flatter and are available in the hottest seasons prints.
There are so many types to choose from and before immersing into all the different styles that you can now get; it is important to decide what parts of your torso you would like covered. From going with a full coverage top which is one of the most popular styles, to a style which has got shorter sleeves or even a midriff top. Most people want the shoulders, chest, back and most of the arms covered to give themselves as much protection form the sun as possible. The rest of the exposed skin can be covered up by a high SPF sun screen, but please do remember when applying this to reads the manufacturer's instructions and diligently reapply as per the instructions to keep yourself sun safe.
As mentioned before, one of the most popular styles is the zip front top with long sleeves. This ensures that most of your upper body is covered and also having a zip front means putting it on and taking it off is a lot easier. Plus, you can have the zip at any desired position - all the way up or slightly down. The long sleeves are great for full arm protection and the flattering contoured side provide a flattering fit which encompasses fit, function and comfort.
Other styles available include ¾ length sleeves are even short sleeves. It is your choice as to how much coverage you would like it to provide and then go with the style that you like. As it is important to cover the shoulders and the chest area, you can chose from designs that do covert these areas but offer other design details such as a shorter length top or even a convertible one which doubles as both a swim top as well as a beach coverup. Do also make sure that the neckline design is what you like as these are varied in how they come. Something like a zip or a lace up neckline are great as they can be undone for ease of getting it on and off, and then also can be done all the way up to provide ultimate protection to the chest and neck area.
So, once you have decided which style, design and print that you like best then the next decision to make is the UPF rating. So what is the UPF rating? UPF is for fabric what SPF is to sunscreen. The higher the UPF, the more sun protection you are going to get. For example, a UPF rating of 50+ means that the top can filter out and protect you from up to 98% of the sun's harmful rays. This is definitely a consideration when deciding on which one to purchase.
One of the best things about adding womens rashies Australia to your sun care regime is that you are protecting your skin and you will be so glad that you did in the years to come. In addition to rescuing your skin here and now from a nasty sun burn which as well all know hurts, you are also helping to prevent sun damage to your skin. Sun damage can take years to show and every time that you are out there exposing your skin to the sun, you are unfortunately increasing your risk of developing a skin cancer later in life. Its pretty scary facts when the Cancer Council is now estimating that 2 out of 3 Australians will be diagnosed with a skin cancer by the time they are 70. This is why rescuing your skin now with sun protection can literally save your life.
The other thing looking after your skin can help out with the to prevent the premature aging that we all know about and really don't want. In an age of beauty products designed to keep your skin youthful and glowing, it really makes good sense to help your skin out by making sure the sun does not give us premature wrinkles. We all spend so much money on skin care, but something as simple as being sun safe can also have an amazing effect on our skin.
So this is why we call our
rashie womens
a rescue rashie as it is the perfect beauty accessory for summer holidays in more ways than one. From stopping a nasty stinging sunburn, to helping prevent premature aging and sun spots and then to helping prevent your chances of developing a skin cancer. It is simple, fashionable, affordable, comfortable and it will truly rescue you this summer.
Leave a comment