Snorkeling in Ladies Rashies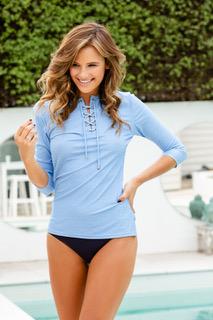 One of the most fun things to do is explore the gorgeous and wonderful world of under the sea. All the beautiful fish and marine life that reside there, as well as the awesome coral and plant life. This is why snorkeling is one of the most relaxing and cool things to do when down at the beach. Most people really only think of doing activities such as snorkeling when they are on holiday, but really any beach will have something great to look at.
You don't need too much equipment for this and as snorkel gear is not heavy or large to lug around, it is something you can have in the boot of the car or you can even hire it on the day. Simply, all you require is a mask, a pair of flippers and a snorkel to get going and enjoy watching what happens beneath the waves.
Another consideration is sun protection when you are out there floating on top of the water. Being completely exposed to the element, if you aren't careful you can really get a nasty sun burn happening. The best way to prevent this is to use sun protection that will help protect your skin and filter out the harmful UV rays. Sunscreen is always a must but be aware that you will need to apply as per the directions on the bottle. A lot of people do not apply enough or read the instructions that you need to apply it 20-30 mins before going out in the sun. the it needs to be reapplied every few hours – especially if you are in the water which you will be doing when snorkeling.
Something to consider is wearing a
ladies rashie
when you are out there. Getting one that fits well and is UPF 50+ can really be helpful in keeping you SunSmart. A lot of people think that wearing ladies rashies especially when in the water will weigh you down or become cumbersome. This is not the case. The fabric is lightweight which means that it almost feels like a second skin, especially if you get one which fits well and is not too loose. The 4 way stretch in the fabric can ensure that it keeps its shape when you are in the water.
The other really cool thing about wearing
ladies rashies Australia
when snorkeling is that sometimes after you have been in there a while, you can start to feel the cold. Having this extra layer can actually provide a bit of extra warmth.
Then once back on the sand, simply take it off, dry in the shade and it will be ready to be put back on really quickly for the next snorkel.
Leave a comment