Swimming & Womens Rashies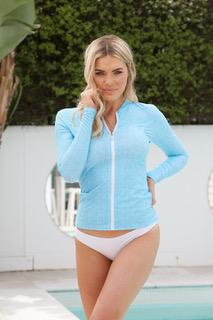 One of the coolest and best things to do in Australia in summer is to go swimming. At the beach, in a pool or even a lake – just somewhere where you can cool down from the hot sunny day and relax. There is seriously something magical about swimming, it just seems to calm the nerves and make the mind truly relax.
This is why so many people flock to the water on warm weekends. It seems like the most natural thing to do and incredibly social too. Nothing better than claiming a spot of sand (or grass), opening up a yummy ready-made picnic, slathering on some sunscreen and relaxing back to lazily watch the goings on around you. Better too if you are with family or even meeting friends down on the shoreline.
What to pack? A well packed beach bag and a cooler picnic pack can make a good day even better! In fact, knowing that you won't have the 'oh no I forgot….' moment will help you relax and get in the mind set for some really important time out.
A beach bag is essential to carry all your personal items in and good things to remember are definitely a towel ( or even two if you are planning to go swimming) and maybe a book or magazine to lazily read or flick through. An absolute must have is your sun protection and a good list of things to pack here are sunscreen, hat,
womens rashies
, and of course a hat and sunglasses. If you are planning to spend time hanging out on the sand, even some kind of shade such as a shade tent can give you much welcome shade and relief from the sun especially during the hottest part of the day.
A well thought out and planned picnic lunch can be so rewarding especially if you have got young ones in tow. They tend to get so hungry after constantly running in and out of the water and building all their san castles. Pre-making sandwiches and having them precut can be a life saver to be able to quickly hand out and keep them happy. Same as pieces of precut fruit and vegetables. Do remember the water though, and plenty of it. A great trick is to freeze the water overnight in bottles so when you come to having some on the beach, it is just thawed and still icy cold.
Picnics with friends on the beach can be awesome as you can have some fun with making salads, bringing cold bbq chicken and cold vegetables. Do remember the plates and utensils as it is a given you will get sand in the food, but minimizing the sand is a lot more enjoyable! Summer, swimming and
womens rashies Australia
, nothing can beat it.
Leave a comment