The Beach and Kids, Boys Rashies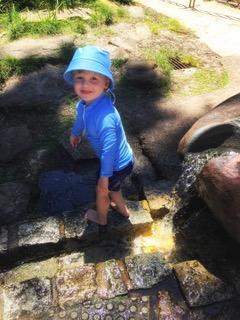 Heading to the beach can be daunting with kids in tow as this is usually a monumental effort of planning and packing for what can be a full day out. Other than packing the sun protection, the boys rashies and sunscreen – here are a few extra things to think about before leaving for a fun day in the sun and the sand.
Drinks – drinks are a must to stay hydrated while down at the beach. Taking water bottles, small individual juice cartons and even cans can be a great idea. Throwing them into the cooler bag to keep them cool can make them nice and refreshing especially after a swim. A great idea to also look at freezing water in water bottles before, and then taking them with. As they slowly defrost, the water will be icy cold. Perfect!
Snacks – most kids get hungry when out in the sun and water all day, so snacks can be a life saver to all. Most of all it can help not having to go to the kiosk to buy things which can get quite expensive after a while. Packing already made sandwiches, nuts, premade salads, fruit and other things that are easy can keep kids happy and full. Most of all they are healthy too!
Beach Towels – you can never take too many beach towels with you especially if the kids are continually running in and out of the water. Towels get too easily wet and full of sand which can be really hard to shake out after a while. Having one or two spare towels is a great idea.
A wet bag for wet clothes and towels – this one is something everybody forgets to take but always needs. At the end of the beach day, having a separate bag to toss in all your wet stuff can save both water and sand going through everything!
Spare change – having spare change can be a great idea especially if you want to treat the kids and yourself to a nice ice-cream at the end of the day. By mid to late afternoon, something like that can be refreshing as well as pick up energy levels. A real treat!
Sun protection - last but not least is all the sunscreen and sun protection. Taking a high SPF sunscreen, boys rash vests, hats, sunglasses and a shade tent or umbrella will keep you sun smart and protected. Boys rashies Australia are great at keeping them protected and as they are quick drying are perfect for days at the beach. When looking to buy boys rashies, look for something that fits well and has a high UPF rating. The higher the UPF rating, the more sun protective it is.
Leave a comment