Top Places to Wear Womens Rash Vests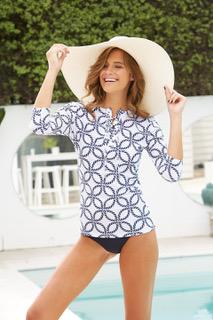 We are always checking out the best places for the 'must have' holiday which includes sun, sand and lazing around a pool. There are so many fabulous places to go, both within Australia and also further afield. So, how do you choose where to go and which ones are the best? So we have decided just to go with our personal favourites which we know always delivers on relaxation and beautiful surrounds. The perfect places to wear your womens rash vests.
The Whitsunday Islands. Queensland is arguably one of the best resort and beach holiday destinations around. As they say, the weather is always great and the beaches pristine and beautiful. The Whitsundays are a group of islands which has something for everyone. From top end luxury resorts to family resorts and even to more 'back to nature' type of accommodation, there is something that will suit every holiday need. The water sports available are endless and the diving/snorkeling is spectacular.

Bali. This is a seasonal favorite with so many Australians, especially for that mid-winter getaway to somewhere warm to thaw out. So close to Australia, it is perfect for either a quick break or a longer holiday. In Bali, there are so many options of places to stay and something to suit every budget. Water sports and activities are plentiful and there is always something to do from riding jet ski's to hiring small sail boats or wind surfers.

Fiji. So close again to the east coast of Australia and perfect for families. The beaches are just beautiful, the water so incredibly warm and the people so friendly. Again, something to suit everyone and every budget. Water activities are plentiful again with everything offered form diving, snorkeling to wind surfing and all in between. Or, you could just hang by the pool and read a book. The choice is yours. One of our favourite pass times in Fiji is to sit by the pool sipping away on a tropical cocktail. Bliss!
Our range of womens rash vests Australia have been designed with both function and style in mind. Something that you will want to wear swimming for that sun protection and will also be happy wearing sitting by the pool sipping a cocktail. Made to fit with contoured side for a flattering fit, they will look like a gorgeous resort top. Best of all , not only will they look great paired with both swimwear and resort style pants or shorts, they are also UPF 50+. Our womens rash vests sale is now on, so perfect timing to browse our collection and find your perfect summer holiday accessory.
Leave a comment