Top Womens Rash Vests and Womens Rash Vests with Zip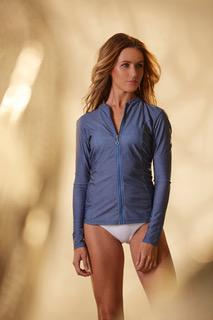 At Cat & I, a common question that we get are which are the best womens rash vest sales to buy sun protection from. This can be a hard question to answer as a lot depends on what you are looking for style wise, and also what you would want to use it for. Hopefully these pointers below can give you some inspiration what to look for when purchasing one.
The first thing to ask yourself is what style are you looking for? This can be hard to for you to know straight away as there are so many different styles out there. From short sleeves to long sleeves and then to ¾ sleeves. This choice comes down to what you like as some women like to cover their whole arms and shoulders just leaving hands exposed (which please cover with sunscreen!). Others are just concerned with covering their shoulders and then use sunscreen for the rest of the exposed skin. Then there is the ¾ sleeve which is really the in between style where half your arm is covered and can be a really nice look.
Then let's look at the neckline you are after. Do you want something which has got a high neckline? Or something which have got a low neckline? Or even something which has got a top zip or a lace up neckline which can be great for versatility of either wearing it open or closed. There are some really great necklines out there and always something to suit everyone.
The next question to ask yourself is what purpose you are using it for as this can dictate which styles or designs you should look closer at to make sure it is fit for the purpose you want it for. For example, if you are looking for something to go swimming in or doing water sports in, then look for something that is more fitted. Having womens rash vests which are more loose can be a bit annoying in the water as you want the garment to move with your body.
Alternatively, if you are after a top to go walking in, do gardening or ogre activities outdoors in the sun, by all means try a looser fit or style. Especially if you are moving around a lot, you may find a more relaxed fit less constricted than the tighter sizes.Then there is the resort style wear which you want to match with both resort style clothing and then also favourite swimwear. You can find tops which are a bit different and also have a bit of bling to add some glamour when matched with a nice pair of resort style loose fitting pants. These are perfect for the afternoon cocktail while sitting around the pool but wanted to protect yourself from the afternoon sun. Why not check out our ¾ sleeve top with tie up neckline for this purpose. They don't actually look like rashies and they are so classic and classy.
We hope this makes your selection a lot easier when you are faced with a womens rash vest sale and are more than happy to answer any questions you may have to help make your choice easier for you.
Leave a comment