What Womens Rash Vests Type are you?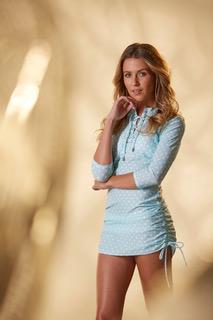 When it comes to a
women's rash vest
sale and you are considering your options, one thing to look at is what type of rashie will suit you. Are you the long sleeve with the high neck line to get ultimate sun protection type? Or are you a ¾ sleeve type? Or are you even a convertible rashie which goes between a beach cover up and a swim top type?
A lot of women are a combination of all these types, just depending on what activity you are doing and also how you feel on the day. Our range of
women's rash vests Australia
cater to all these options and are all UPF 50+ for a good level of sun protection. Let's look at each option in depth.
The convertible rashie is a firm favourite as it is exactly that, convertible! There is so much versatility when wearing this one as it has been designed with adjustable strings on the side so you can wear it either up or down. Wearing it down is great for a beach cover up look as it is similar to a short dress. Coming down to around mid-thigh, it can look great either a beach cover up or even at a resort. If you pull the sides up, it will immediately transform into a swim top. The extra fabric in the middle of it it also is great for pregnancy as it will accommodate both you and the bub. The sleeves have been designed at ¾ length which looks great with it, and the unique lace up neckline adds a bit of glamour. This one is perfect for wearing at a resort and will look great sipping cocktails in the afternoon by the pool.
Not quite what you are looking for? There is an option of a similar style rashie which has got the ¾ length sleeves and the lace up neckline, but it is normal length. Designed to be a swim top, it is a lot more snug and great for snorkelling, swimming or just hanging by the pool. It can also look great paired with resort or summer clothes as it also looks like an athletic style top. How's that, looks like classy athletic war and is still UPF 50+!
Last but not least is the most popular style and this one is the zip front one with the full length sleeves and high neckline. This one is another favourite due to the full level of sun protection but also because the zip can be worn at any position. Designed for a snug fit, this one is also perfect for beach activities including water ones.
With all our rashies, if you are looking for a more relaxed fit we recommend ordering a size up for extra room. We also offer free returns so if the fit isn't quite right, let us know and we can send you another size to try.
Leave a comment