Womens Rashies to Keep Looking Young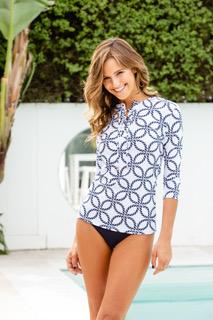 Did you know that the sun actually ages us? It is a well-known fact that the sun's rays can cause premature aging. Especially if you spend a lot of time in the sun, you can really start to notice the sunspots and the premature wrinkles. There have also been articles written on how women who live in areas with really harsh sun are actually aging faster than women who live in colder areas with less sun. Yes, this is all due to that giant star that gives us life but also makes us look old!
Your best defense is to completely avoid the sun, but that is just downright impossible to do. The next best thing is to protect yourself as much as possible and by this, I mean use sun protection each and every time you are exposed to the sun. In addition to using a high SPF sunscreen, womens rashies Australia can really help protect your upper body and torso area from the harmful UVA and UVB rays.
Womens rashies are purpose made sun protection tops with a UPF rating which is the equivalent to the SPF for a sunscreen. The higher the UPF rating, the more sun protective it is. A UPF rating of 50+ protects from up to 98% of the UVA and UVB rays. There are so many designs and styles when you research womens rashies online and you will find something that will suit your needs and purpose. You will also be pleasantly surprised to find that womens rashies aren't as daggy as they were years ago. In fact, there are so many gorgeous and stylish designs around that you will be spoilt for choice.
It is the UVA rays which are the ones that do the most damage in regard to premature aging as these rays penetrate deeply into the skin. They are annoyingly prevalent practically throughout the whole day so there never is a good time to not wear sun protection unless it is night time. The UVB rays are the ones that don't penetrate as deeply but they are the ones associated with skin cancers. These rays are only at their worst during the middle of the day when the sun is directly overhead. This usually falls into the time zone of 10am to 4pm.
So, to conclude all this, there is never a good time to forget about sun protection especially if you are concerned about premature aging. Using a facial sunscreen daily and wearing sun protection clothing like ladies rashies Australia can really help you manage this. Your best beauty advice and accessory this summer!
Leave a comment