Womens Zip up Rashie and More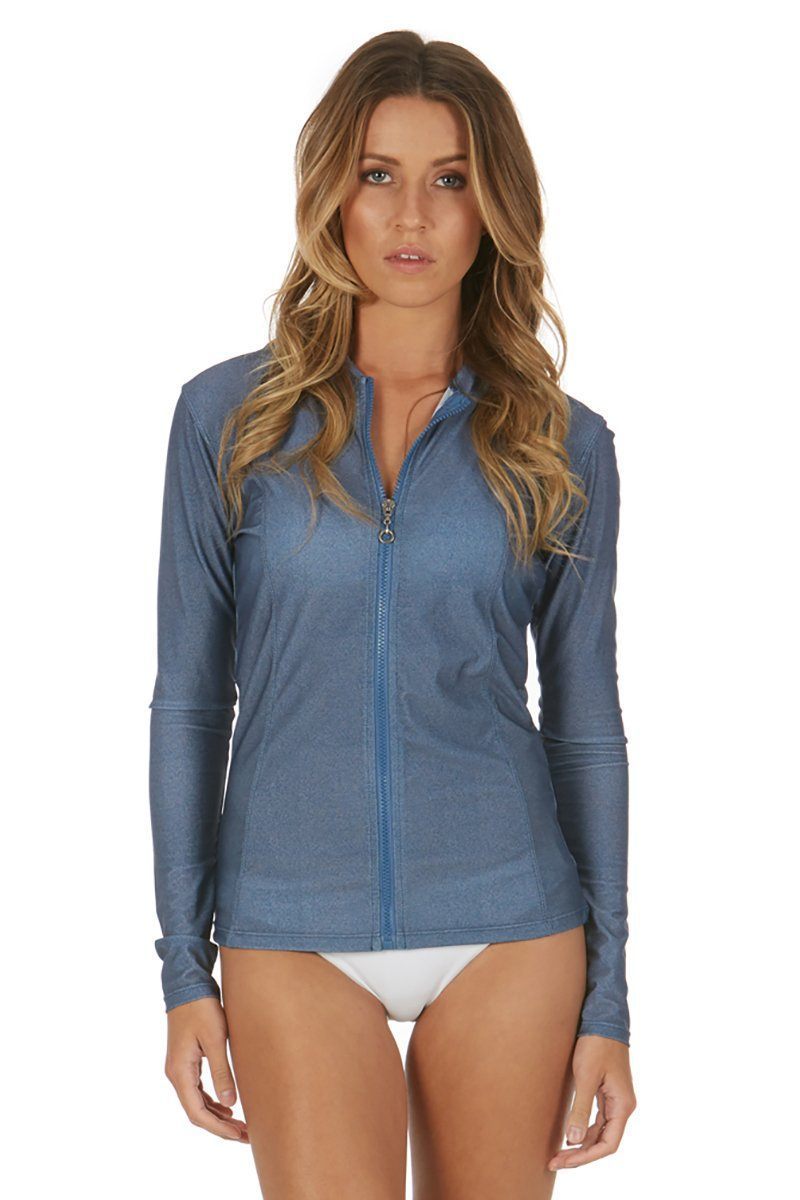 Looking for the perfect
womens rashies online
to start getting summer ready? Then look no further because
Cat & I
have got you covered, literally! Hunting for that rashie can be time consuming and you want something that looks nice but is also functional i.e. it protects you from the sun.
Our range has been designed with style in mind, so not only are you getting a great looking rashie but one that is UPF 50+. What does UPF 50+ mean? Well it means that the rashie will block out up to 98% of both the UVA and UVB rays that cause skin damage and premature aging.
In our range we have got the gorgeous
womens long sleeve rashie
which has been purposely designed with contoured sides which are intended to flatter. It provides a nice, snug and flattering look whilst still doing its job as a long sleeve rashie womens. We have hand chosen the finer detailing such as our signature silver zip puller which gives it a nice bit of bling. The sleeves and the body length are a bit longer than normal to ensure that it fits and to give good sun protection.
Also, in our range we have designed some unique pieces as something a bit different in the market. Our women's lace up neckline is so flattering and can be worn both open or shut.
Both ways look really great and the silver eyelets plus silver endcaps just finish it off beautifully. Again, the sides are contoured for a flattering fit. These tops can be paired with both swimwear and resort wear to look really great. Best of all, you are sun protected!
Our other unique design is the
convertible womens rashie
which is so unique and such a great idea. Imagine a sun protection top that also doubles as a dress/beach cover up. Well that is what this one does. The ruched sides can be pulled up and worn as a top. The extra fabric in it is great for either extra room or for pregnant women. Then when you need a stylish beach cover up, all you need to do is let the sides down and viola, it's a dress!
The sleeves are ¾ length which look stylish but cover the top of the arms and shoulders whilst the neckline is our unique but gorgeous lace up neckline. Again, worn open or shut and this neckline is very flattering and looks great with the silver eyelets and silver endcaps on the ties.
Being SunSmart needn't be an unfashionable look as our gorgeous designs show. We have endeavored to choose colours and prints that are classic and can be beautifully paired with your favourite swimwear or resort wear.
Leave a comment