Beach Fun Ideas & Boys Rashies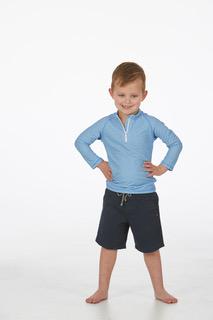 Boys and the beach, nothing is more fun than romping around in the sand having fun. Dressed and sun protected in their boys rash vests, ready for anything! If you ever run out of ideas to keep them amused on the beach, then keep reading as we have got some great ideas to keep them busy and happy.
Playing in the sand. This one is a no brainer as this is what kids tend to gravitate to immediately. Get some toys for them to be creative with and build sandcastles. These plastic buckets and shovels can be purchased pretty cheaply, and you will be amazed at how long it will keep them entertained. They can get as creative as they like and build amazing sand castles or dig lots of holes for unsuspecting adults to trip over and even just amuse themselves with filling the bucket with water or sand.
Fishing off the beach is another great idea to keep them entertained. Lugging the gear down can be tiresome, but once you get there, they will love holding the rod, feeling the fish bite and trying to reel them in. The hunt for the fish will keep them amused for hours. Not to mention, it is something different for them to do. And the stories afterwards about how big the fish was……
Another favourite is hunting for crabs or other small marine animals that live in the sand or rocks. There is so much that goes on in those rock pools and a really great lesson in biology too! Even finding the small holes that the little crabs dig when they burrow and then trying to find them can keep them amused.
Flying a kite is another idea which you may not immediately think of, but this can have hours of fun in it. The satisfaction of holding the kite while it soars in the air, and even getting it off the ground can be fun in itself.
A picnic is a must if you are planning to spend hours at the beach and kids will always work up an appetite, no matter what they are doing. Pack some cold water, ready made sandwiches, sliced fruit and cheese snacks into a cool bag. This will keep them hydrated, nourished and energized to enjoy their day at the beach.
Hours and hours of fun and entertainment will keep them happy and tire them out for a good night's sleep. Arm them with their boys rashies, sunscreen and a hat to keep them sun protected and safe. Check out our boys rashies Australia page for our current sale on some cool and comfortable sun protection to keep them safe.
Leave a comment